The Gold and Silver Explorer memberships let you do many exclusive and special things, but you have pay a certain amount of money.
For those who are wondering why Dizzywood has to create the memberships, it is because hosting a website needs money and starting memberships pays for the staff needed to support it. All early members get to keep all their items without having to pay for them though. However, they can make money through merchandise and web advertisements as well.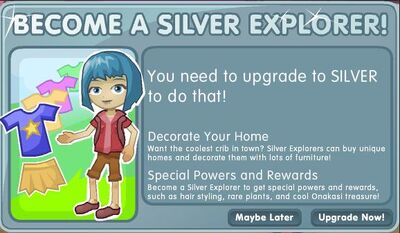 The Silver Memberships started in February and the Dizzywood crew were kind enough to give all the early explorers a free silver membership for that month.
With this membership, you can furnish you home, dress your character in the newest fashions, access creative home templates, unlock exclusive Powers, grow special plants and drop them anywhere and own multiple skateboards.
Many of the things silver explorers can only do used to be for free. This has made some users angry, since they released the Silver Explorers without telling them that they would lose anything they got in Febuary that they would be able to keep beforehand.
Silver membership can not be found to buy on membership buying menu any more. A way to get a chance to buy Silver Membership is to do someting that only silvers can do and it will say a message with: "Only Silver membership can do that". Then click upgrade to become a silver member
The Gold Memberships started in November 2008 and allow you to access special Missions and rewards that other people can't get, private message (PM) your friends, customize you name tag and chat bubble, build your own mansion with multiple rooms, adopt your own critter and you get all the silver explorer benefits.